Communicator
Keeping your staff, contractors & distributors connected to your business 24 / 7
Contact us
1
Your company message in everyone's pocket
Whether for office staff, remote workers, or your suppliers & re-sellers, make sure everyone is updated with the latest information about your company, in real-time, wherever they are.
2
Aggregate all your company information
Create original content, or use API's to collate data from multiple network sources to provide a concise, one-stop-shop of company information - accessible on-demand, anywhere, anytime.
3
Feedback from all your stakeholders
Encourage an inclusive culture of interaction and engagement with your company via a two-way, open communication channel – by providing sharing, feedback and survey features.
4
Downloadable resources for offline viewing
Users can download content and view it offline. So no matter where they are - the resources they need to do their job are always available - no internet connection required.
Who is it for?
A powerful tool for modern businesses who understand the key importance of effective & timely company communications. Companyapp Communicator is a 'white label' mobile app that ensures that all stakeholders know what's going on in your business, through the mobile channels that they choose to use everyday.
Unlike traditional desktop intranets or printed newsletters, our communications app reaches out to engage users, at a time and place convenient to them. And by opening up a genuine two-way communication platform, your business gains valuable feedback and insights into their thinking and preferences.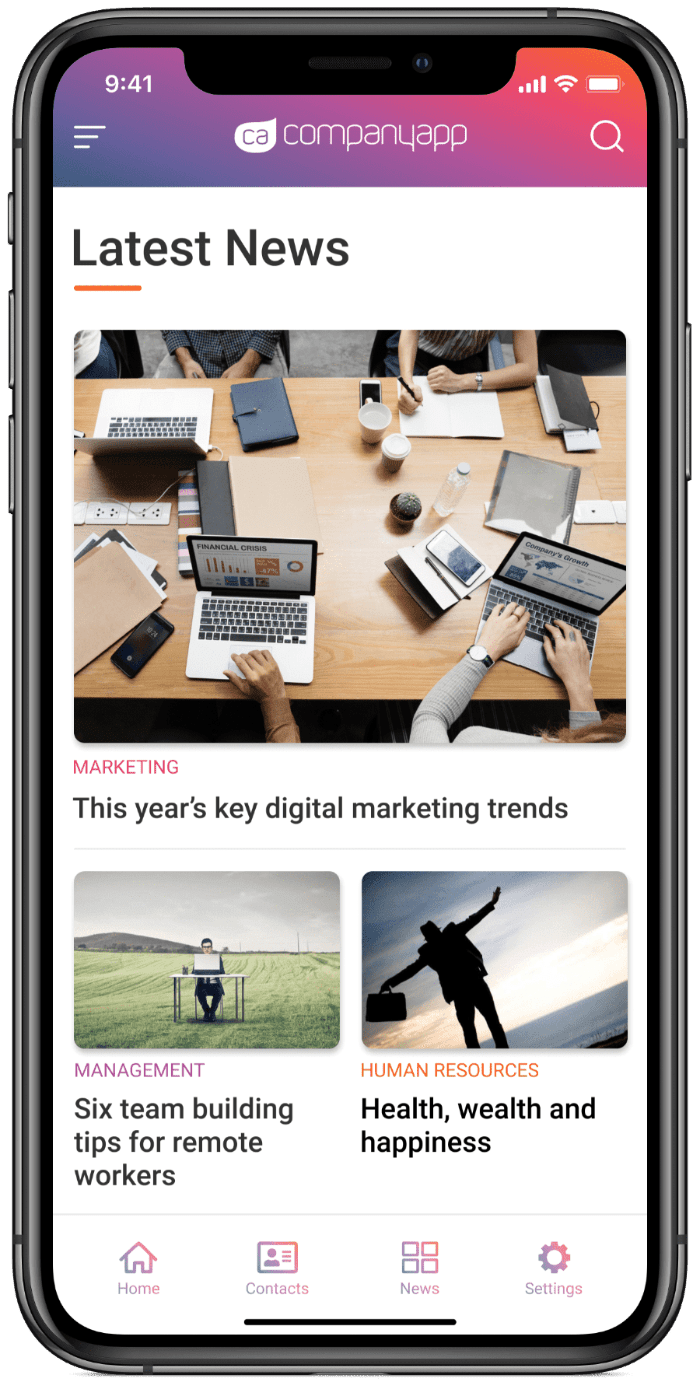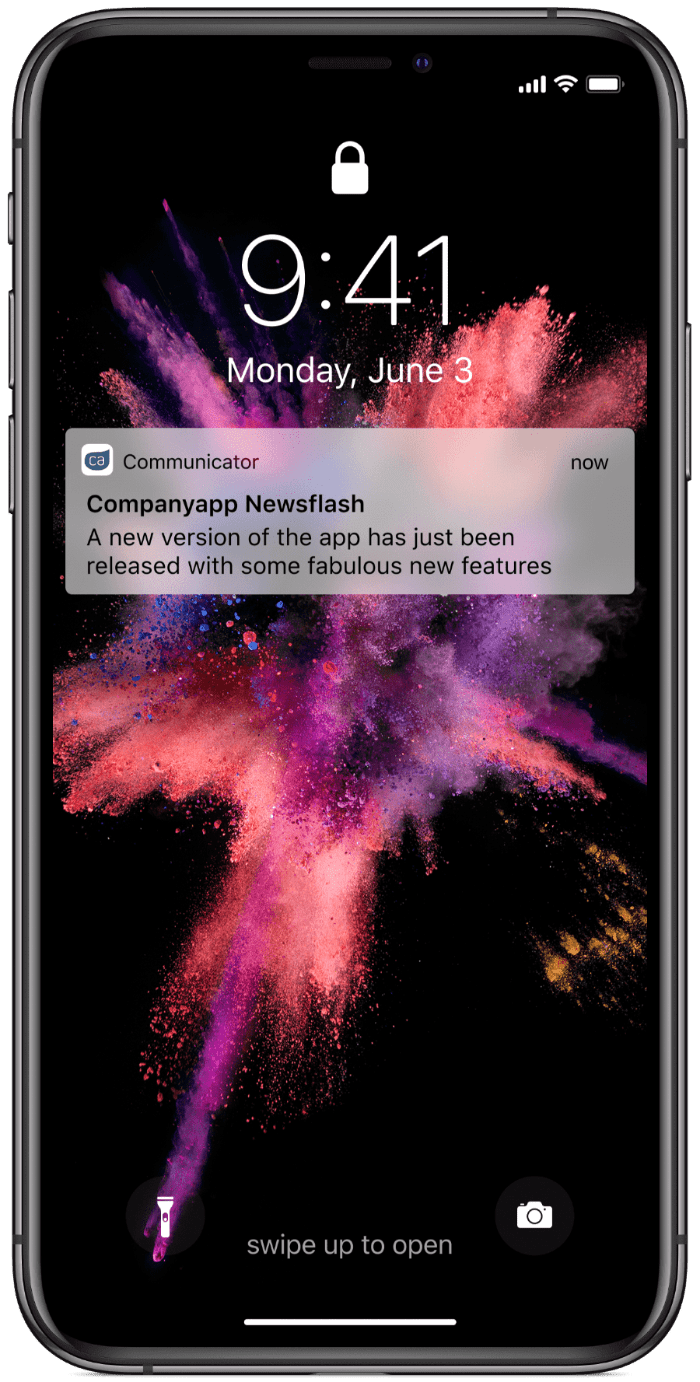 Latest News
Make sure everyone is up to speed with everything that's going on in your business with latest company news and features.
Push notifications
Alert your staff and/or customers with important and timely notifications to make sure they're always 'in-the-loop'.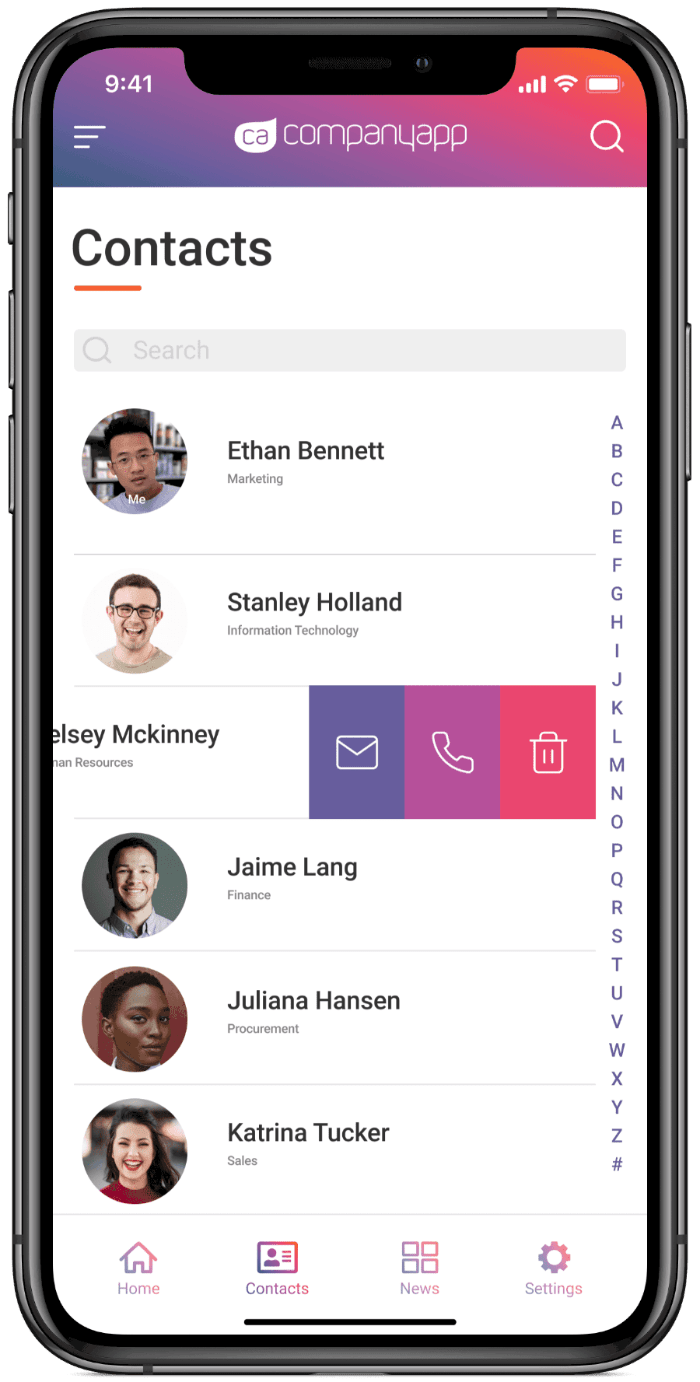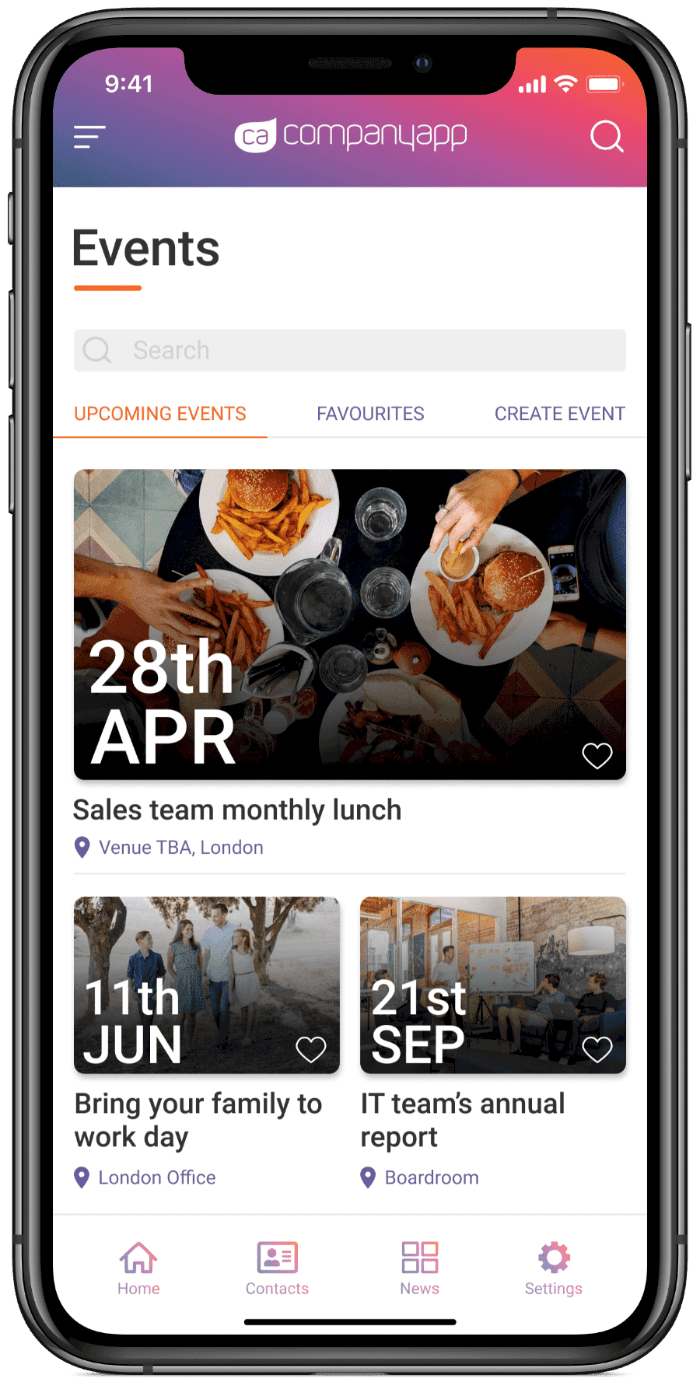 Contacts
A fully categorised contact list, compiled into one easy-to-access resource, allows more efficient staff and customer communication.
Events
Inform your users of upcoming company events – whether staff meetings, corporate functions or product launches – to make sure everyone know what's going on.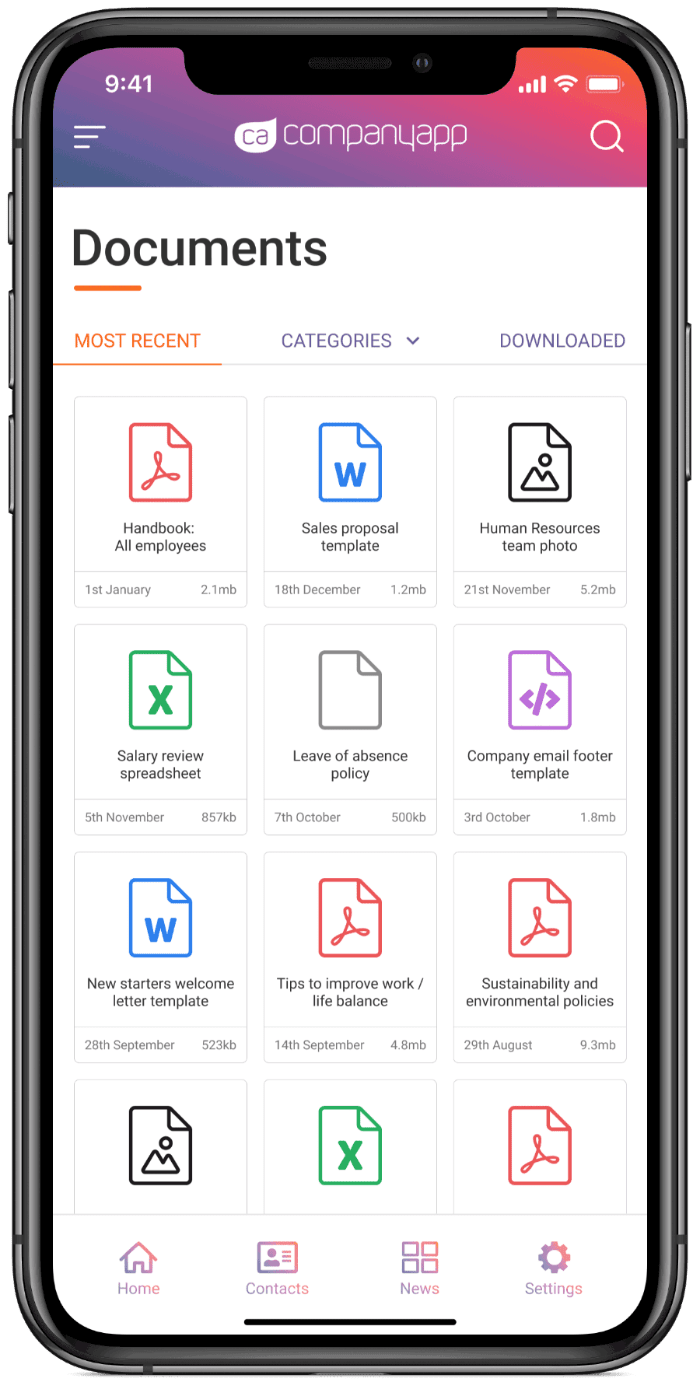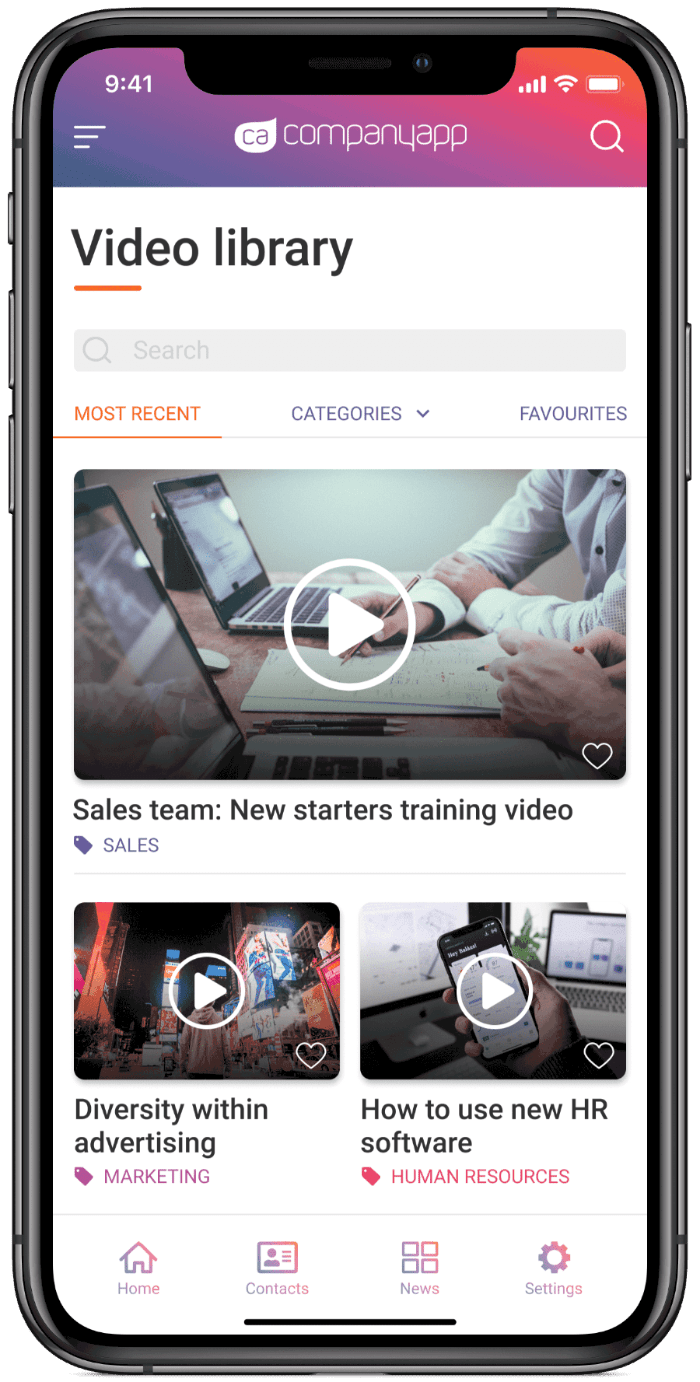 Document Store
Users can easily access company documents & download an offline copy – so the resources they need for their job are always with them.
Video library
Build a high-quality video library within the app so your users have access to relevant video materials whenever / wherever they need them.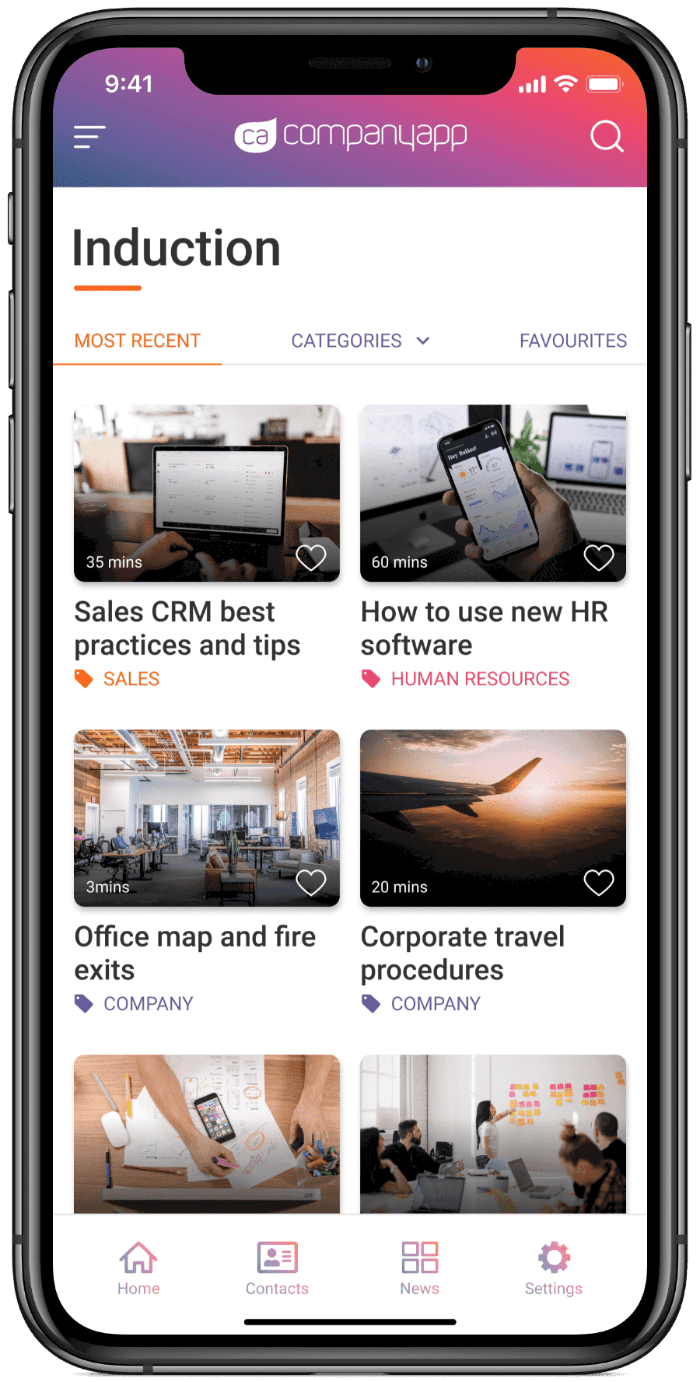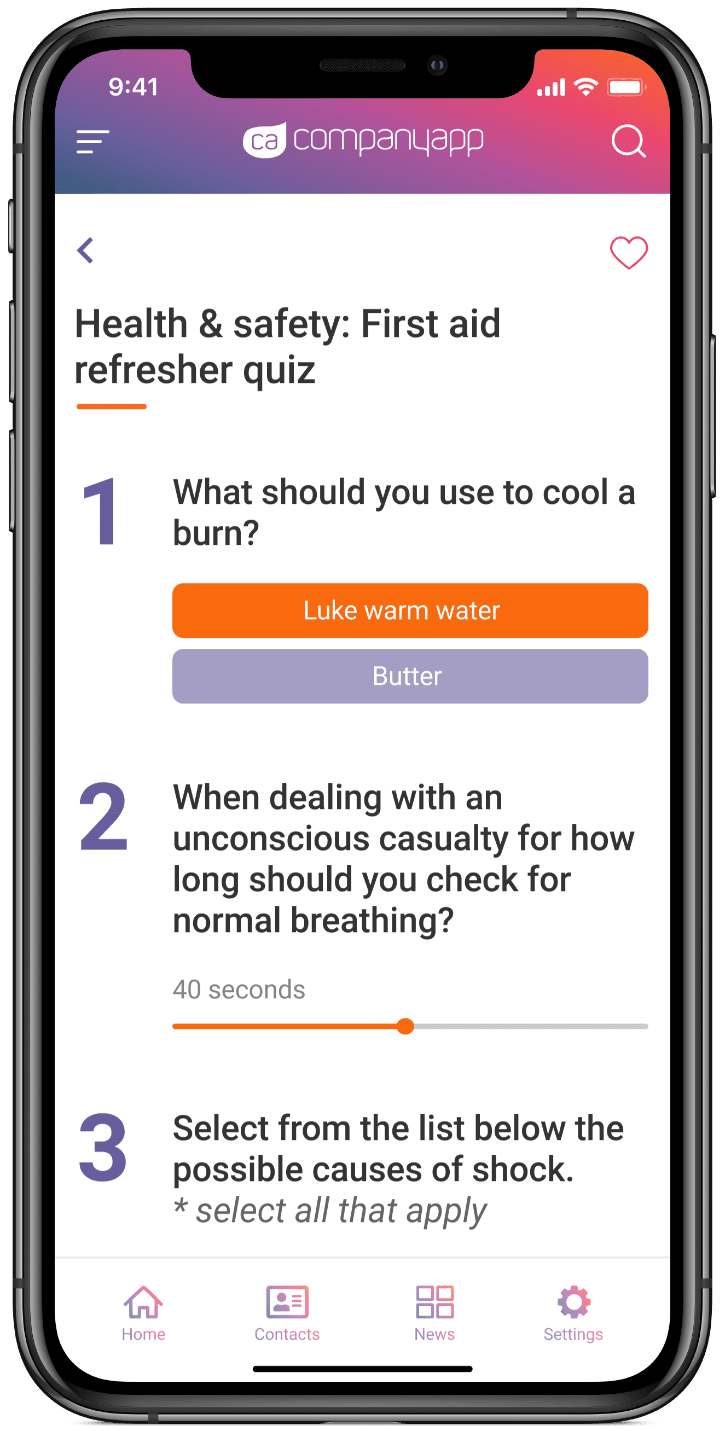 Induction & onboarding
Ensure new staff or contractors are up to date with interactive induction or onboarding programmes that are tailored to their specific role.
Training & development
Keep everyone up-to-speed with the latest training materials, product guides, health and safety standards or continuous professional development (CPD) procedures.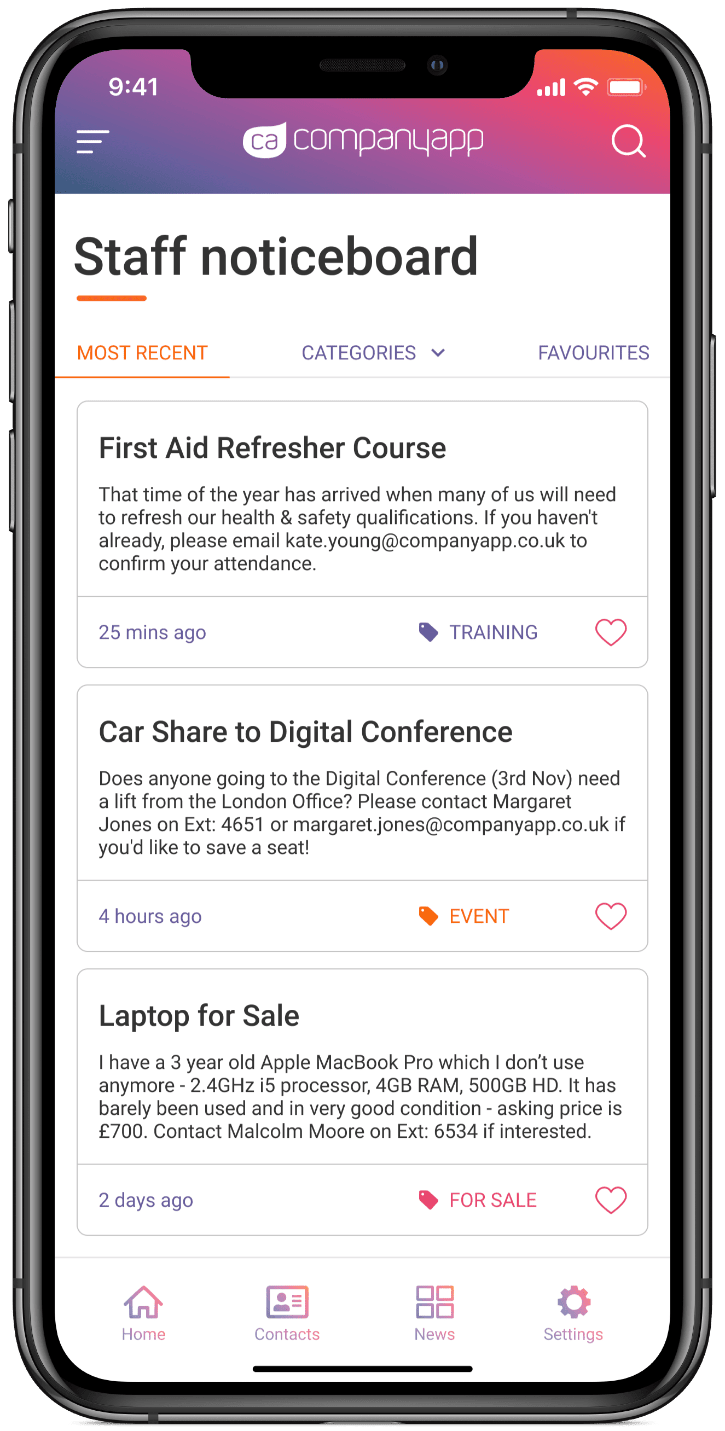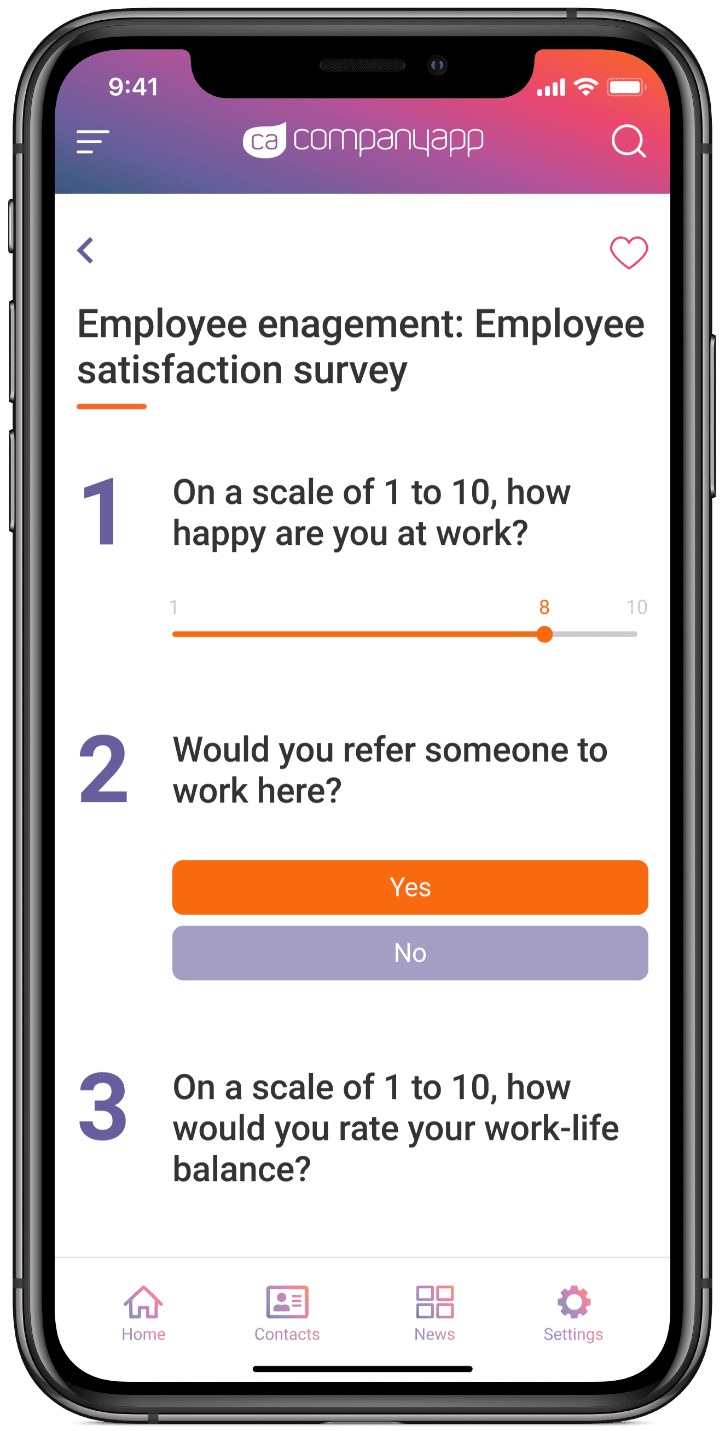 Staff noticeboard
Quickly communicate company notices and reminders to all your users. Let your staff add their own too – so everyone can feel involved.
Surveys & opinion polls
It's important to ask your users what they think if you want them to feel engaged with the business. Get their feedback – they might have some interesting ideas!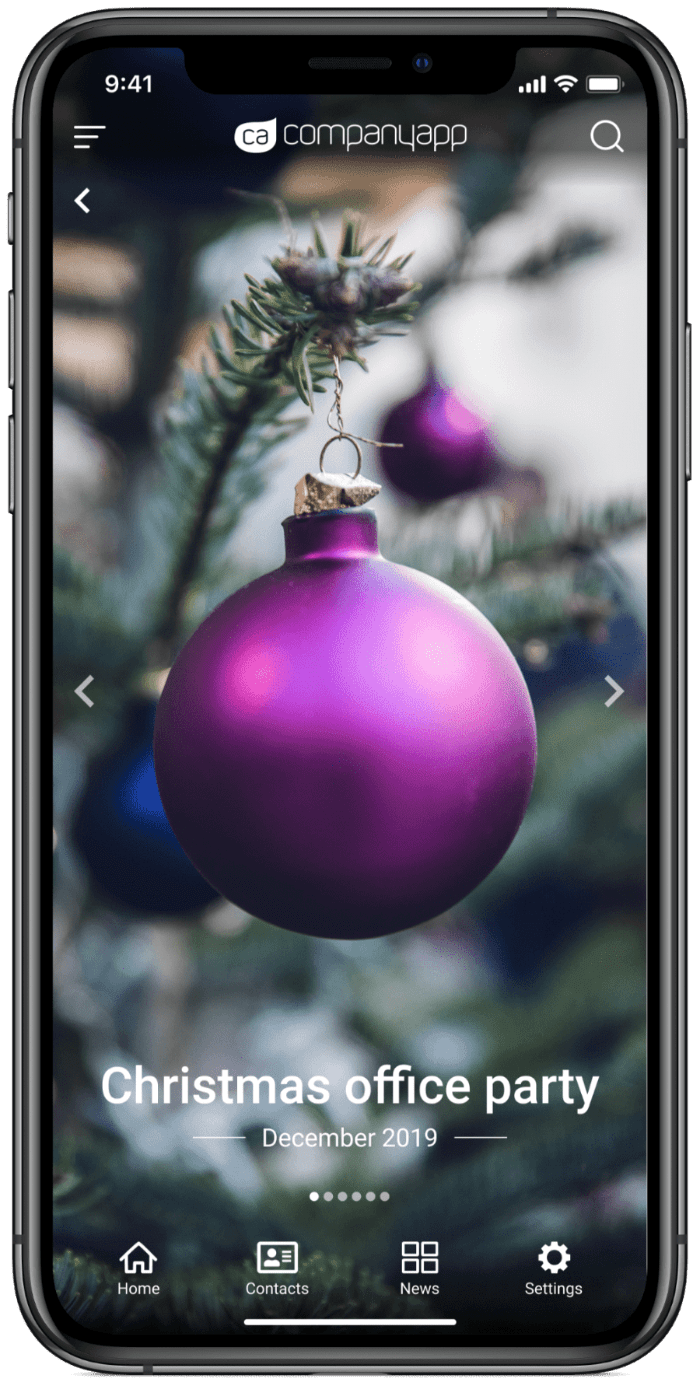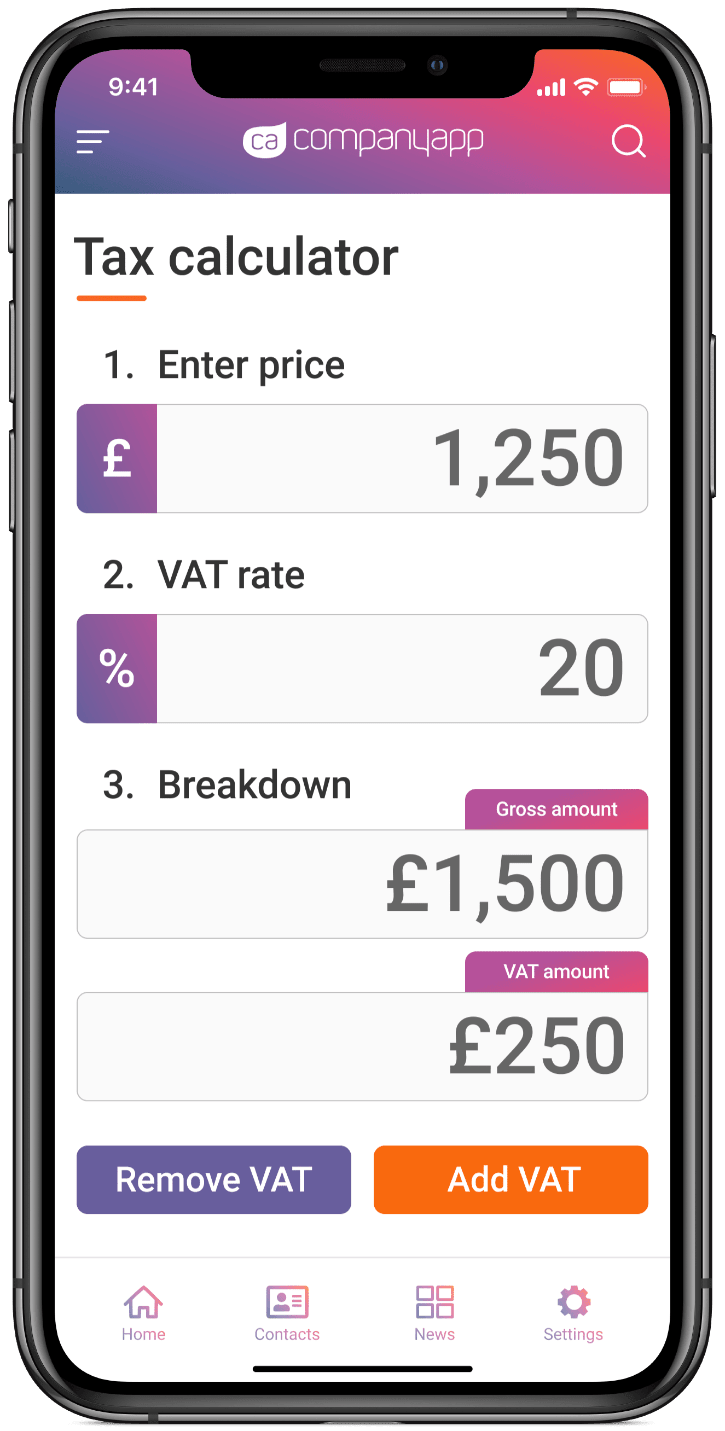 Image galleries
To drive engagement with the app your users can upload their photos into pre-configured galleries – useful for team building events or activities.
Tools & calculators
Build bespoke tools within the app that help users do their job more efficiently – such as product configurators or cost calculators.
Getting started
Communicator is a 'white label' app which means we build a unique version for you in your own branding. You will even get your own app icon on the Apple App Store or Google Play Store. So one of the first things we'll need from you is a copy of your brand guidelines, so we we can skin the app to look like your company.
Then we need to discuss system set-up; how to configure the various user roles, permissions & content categories etc – to decide who can see what content (and who can't). We'll also discuss any bespoke features & functionality you might want to add to fit your specification. Keen to get started? Contact us below!