Presenter is a powerful software system that puts you back in control of all your sales & marketing materials. Use it to create, manage & distribute fabulous looking, brand coherent, interactive sales presentations & start to really engage your clients with presentations they will remember.

<! -- stakeholders -->
I need to be in CONTROL of what my sales team are doing, and what my clients are seeing. Because if I'm not in control, I'm not doing my job.
It's a challenge keeping sales & marketing content organised, up-to-date & easily accessible.
See solution
keyboard_arrow_right
close
Consolidate all your content in one easy-to-manage place. So it's quick to update and share, or quick to withdraw.
I worry that our presentations feel tired, old fashioned & don't reflect well on the brand.
See solution
keyboard_arrow_right
close
Modern web-based presentations with dynamic animation, interactivity & data capture set you apart from the competition.
I'm in the dark, I don't know what my sales team are up to and what materials they are using.
See solution
keyboard_arrow_right
close
Presenter gives you oversight of what your sales team are doing day-by-day with comprehensive reports & metrics.
I'd like to improve productivity & information flow and maximise my presentation ROI.
See solution
keyboard_arrow_right
close
Library slides cut down time consuming, repetitive & concurrent tasks. Slides are re-used time and time again.
For us it's about feeling supported by the team and having the tools and resources we need to do our job properly. We need to spend our time selling - not building presentations.
I often struggle to find the high-quality sales and marketing resources I need.
See solution
keyboard_arrow_right
close
Centralised, categorised and searchable content in the cloud is and easy to find and download.
I spend too much time creating bespoke new decks from multiple ppt presentations.
See solution
keyboard_arrow_right
close
Quickly build new decks from a library of pre-built slides - add new original slides from easy-to-use templates.
I want to impress with great quality, engaging material that is memorable to my client.
See solution
keyboard_arrow_right
close
HTML slides can go beyond what is possible with PowerPoint or PDF for really impressive, indelible content.
I never know if my clients have actually looked at the materials I've sent them.
See solution
keyboard_arrow_right
close
You will be notified when your client opens presentations and documents you email them via the system.
I'm busy, and there are a lot of things vying for my attention. I need engaging, relevant & succinct information that makes things easier to understand & evaluate.
Please, no more boring 'Death by PowerPoint'. I've seen all that too many times before.
See solution
keyboard_arrow_right
close
No PowerPoint - interactive, dynamic HTML content that is designed to engage you.
Keep to the point, please don't show me off-topic slides or irrelevant waffle.
See solution
keyboard_arrow_right
close
You will see bespoke, tailored presentations with relevant, pertinent, content.
I'd like to be able to review what I've been shown later, at my leisure.
See solution
keyboard_arrow_right
close
Links to online versions of presentations can easily be shared with you - no attachment file size limits.
I see too many dense, wordy and complicated slides that don't help me understand anything.
See solution
keyboard_arrow_right
close
Slides that animate and reveal elements interactively are easier to comprehend and evaluate.
High quality, brand coherent content using professionally built templates and themes
Presenter has over 40 templates to make slide creation easy. Design & layout is controlled by bespoke themes, so slides are always 'on brand'. HTML content is dynamic & interactive to help impress your clients.
Granular control of users & content permissions with detailed analytics & reports
An enterprise class content management system (CMS) makes it easy to manage access permissions for both presentation content and user roles. Make sure no one sees what they shouldn't.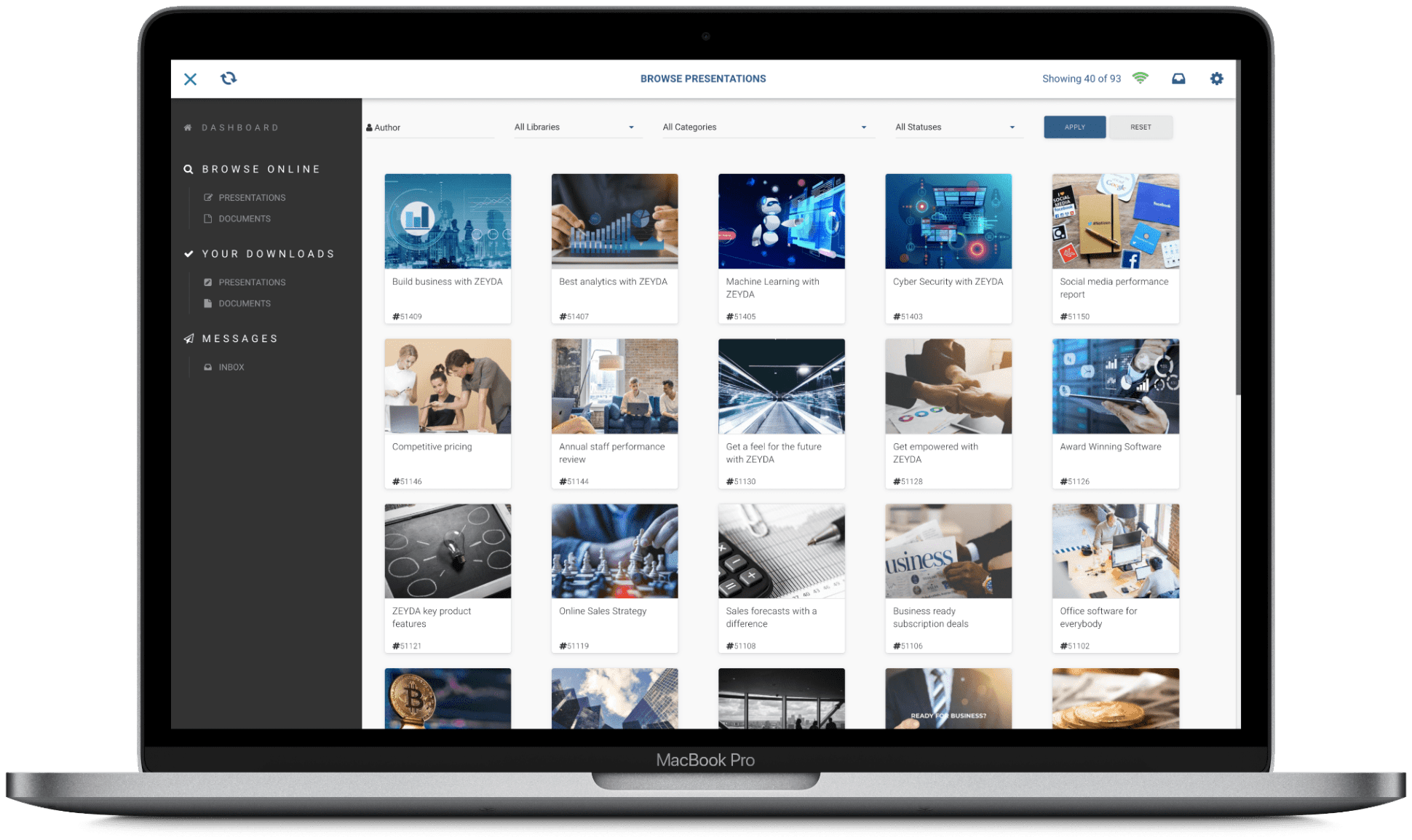 A centralised, categorised & searchable library of content in the cloud that is easy to share
All your content collated into one searchable place makes finding what you need quick and easy. Management of the resource is straightforward and efficient with updates simple to deploy.
Easy sharing of content via fully tracked email with no attachment file size limits
Send great looking, brand formatted emails & receive a notification when the content is viewed - complete with detailed analytics on your recipients interactions.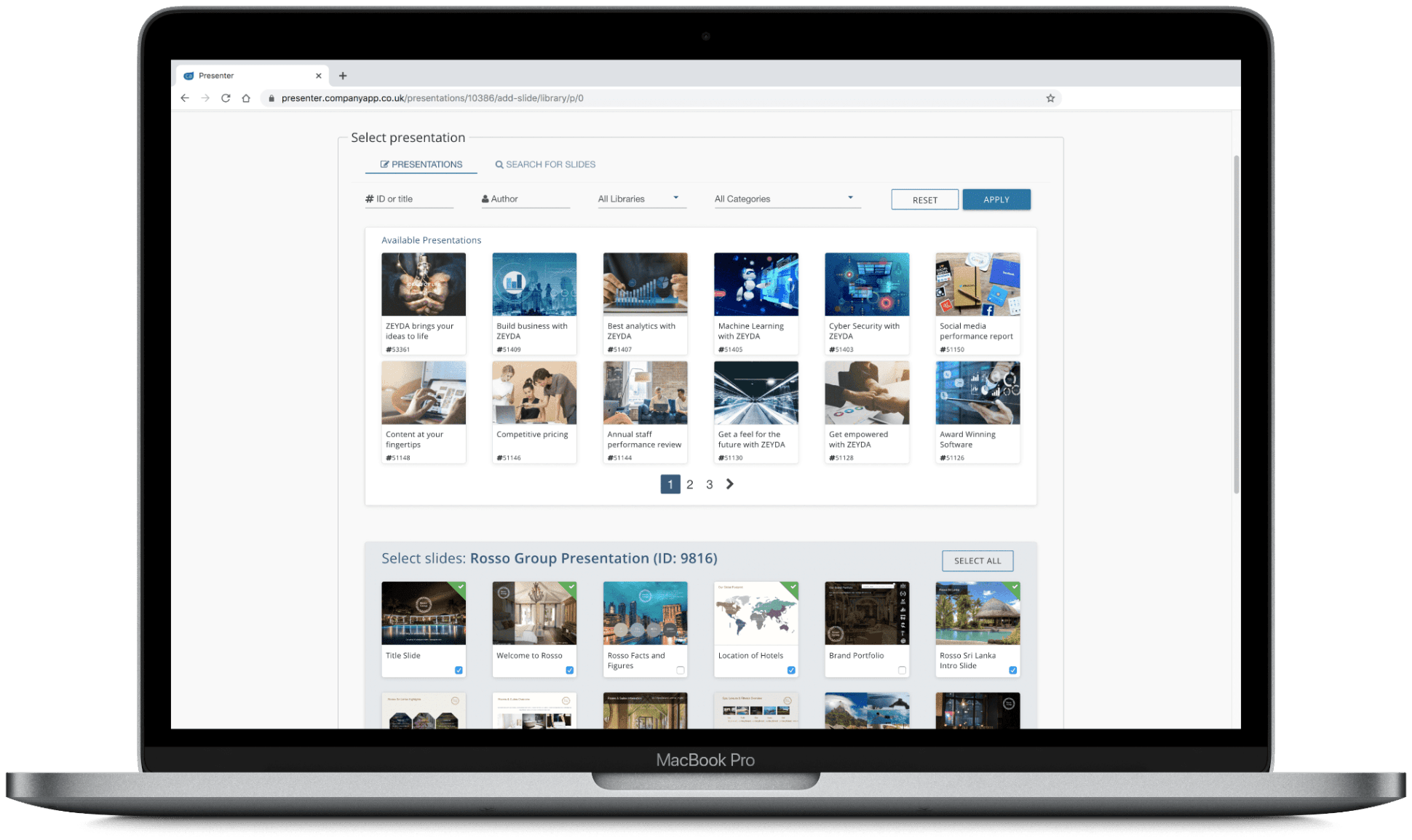 Quick to re-purpose content with library slides and simple management of updates
Pre-built, core library slides can be re-used time & time again to build bespoke and tailored presentations in minutes. Changes to library slides automatically cascade through the system to wherever the slide has been used - so everything is always up to date.
Presenter has been designed to cater for everybody.
A powerful & insightful tool for

Marketing Directors
A simple & effective sales aid for

Sales Teams
A clear & engaging experience for

The Client